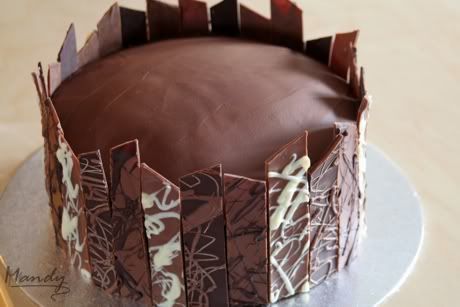 I know that decorating a cake with chocolate shards is probably quite old by now but I've always loved how they look. I've also wanted to try this particular decoration ever since my mom-in-law got me a cake decorating book for my birthday the one year which showed exactly how to do so. Finally... I was given the perfect opportunity...
It was my friend's birthday and she asked me to put my baking to some good use - make her a birthday cake - and the flavour? CHOCOLATE!!!
I immediately thought back to the recipes in some of my recipe books and then the lightbulb moment, I could finally make a cake decorated with chocolate shards!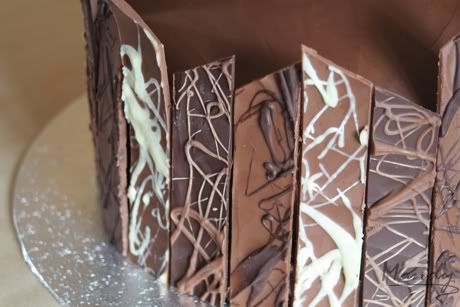 Not only that, I would make a chocolate cake that would be a complete overdose of chocolate :D
As soon as I got home I ran for my books and there I found exactly what I wanted. Devil's Food Cake with Fudge Frosting. That definitely satisfied my mind with the thought of all that chocolate. Then an idea formed and I decided to take it a little further, instead of Fudge Frosting as the book suggested I thought I'd try something a little more luxurious, I decided on using a rich Ganache for the filling and frosting... I promise it did not dissapoint!

Ganache is really easy to make and such a pleasure to use for pouring/spreading and makes such a difference to any plain cake. You can also make it ahead of time and store it in the fridge, just let it sit out on the day you need it so it softens up enough to spread.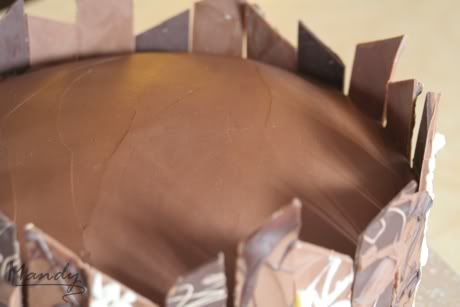 For the Ganache I decided to use half dark chocolate and half milk chocolate as I wasn't sure if my friend enjoyed dark chocolate but I also didn't want it to be too sweet, the combination worked perfectly, it wasn't bitter or overly sweet.
After comparing quite a few recipes from the net, I decided to stick to the recipe from a book that is my favourite for baked goodies, I've made minor changes like using unsalted butter instead of shortening and using a ganache instead of the fudge frosting etc but I've included them in the recipe I've posted.

I hope you enjoy this recipe as much as we did!
Ingredients:
Devil's Food Cake
2 cups Plain Flour
1½ cups Sugar
1¼ cups Buttermilk
115g Unsalted Butter
3 Eggs
85g Dark Chocolate, Melted (70% Cocoa)
1 Tbsp Cocoa
1½ tsp Bicarb of Soda
½ tsp Baking Powder
1 tsp Salt
1 tsp Vanilla Extract
Ganache
325ml Heavy/Double Cream
160g Milk Chocolate
160g Dark Chocolate
Chocolate Shards
225g Chocolate (Various according to design)
Method:
Prepare the ganache first: finely chop/grate the chocolate and put into a heat resistant bowl.
Put the cream into a saucepan and heat until just about to boil.
Pour over the chocolate, using a whisk stir the cream and chocolate together making sure all the chocolate has melted and the mixture is smooth.
Refrigerate and stir with a fork every now and then so that it's all the same consistency until thick enough to spread (about 2 - 3 hours)
Preheat oven to 180°C (160°C Fan Assisted)
Grease and flour three 8-inch round cake pans.
Into a large bowl, sift and measure all the dry ingredients then add the wet ingredients.
Beat until well mixed at a low speed, scrape the bowl throughout. Increase mixer speed to high & beat for 5 minutes, scrape the bowl occasionally.
Pour batter into prepared pans.
Bake for 20 - 25 minutes until a toothpick or cake tester inserted comes out clean.
Cool on rack for 10 minutes then remove from pans. Cool competely before frosting.
Put a dab of ganache on the cake board/plate so that the sponge doesn't move around while icing.
Spread ½ a cup of ganache for each filling layer.
Spread a thin layer of ganache over the whole cake to trap any loose crumbs then spread the remainder of the ganache over the cake. Smooth the top or make swirls and patterns. Don't oversmooth the sides as it's easier to stick the shards to.
Tip: For a smoother and glossier look, heat a metal spatula and smooth the top
Carefully stick the chocolate shards around the cake.
This cake yields up to 12 slices
Devil's Cake recipe adapted from The Good Housekeeping Illustrated Cookbook
The main reason I keep this book around is for the baked goodies and sweet treats as well as it has some useful tips. The cakes, pies, tarts and cookies are decadent and interesting, traditional favourites to the not so common but always tasty. You'll probably see me post more than a few recipes from it :)
Chocolate shards inspired by Irresistible Cakes
This has lovely decorating ideas from kids birthday cakes to something more simple and elegant.